Learn about Google Analytics 4 (GA4) and how this marketing tool will help improve your business in this complete guide.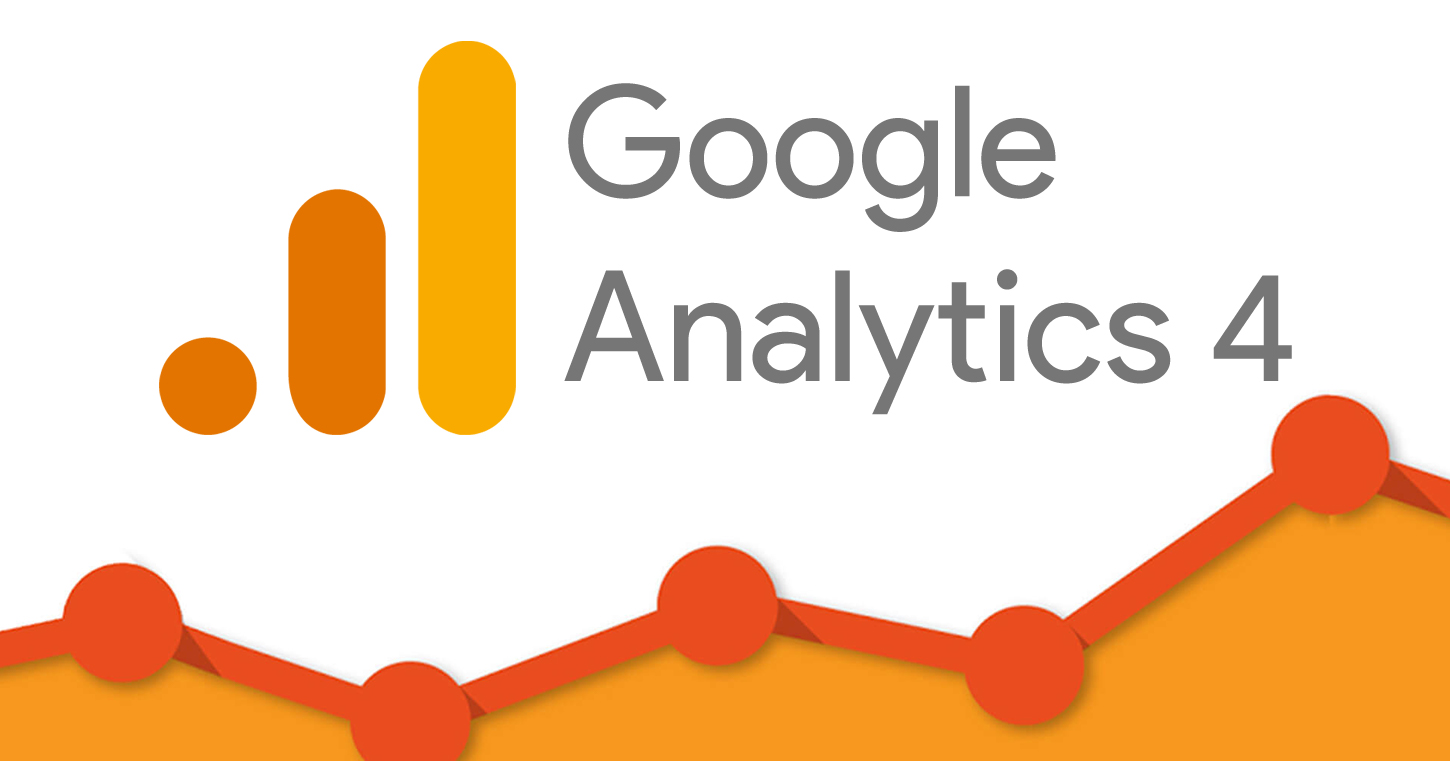 Released in October 2020, Google Analytics 4 is the next evolution of analytics tracking. With it, you get a comprehensive view of how users interact with your brand across multiple platforms and devices.
Since its launch, marketers and business owners have asked how to integrate GA4 into their marketing strategy. Common GA4 questions include:
What is Google Analytics 4?
What's new and different about Google Analytics 4?
What are the advantages of Google Analytics 4?
Should I switch to Google Analytics 4 now?
Can I use Google Tag Manager with GA4?
How do I set up Google Analytics 4?
This complete guide answers those questions. You'll learn everything needed to get started with Google Analytics 4. If you get overwhelmed, don't worry, we offer done-for-you GA4 integration as part of our SEO Setup.
What Is Google Analytics 4 (GA4)?
Google Analytics 4 is a new, more intelligent property designed to be future-proof. It provides improved tracking, reporting, and insights than a Universal Analytics (UA) property.
The Google Analytics 4 property is also versatile. You can use it to collect data on a website, mobile app, or both. Conversely, Universal Analytics properties only support websites.
Google Analytics 4 also uses machine learning to capture helpful insights. This new approach helps you understand user engagement across various devices, platforms, and domains. These smarter insights will help improve your marketing and business decisions. And ultimately get you better ROI!
Should I Switch to Google Analytics 4?
The short answer: Yes, start working with GA4. However, it's best if you also continue to use Universal Analytics.
Don't switch entirely yet. Instead, set up a GA4 property to run in parallel with Universal Analytics. Start collecting data, even if you don't plan on using GA4 right now.
Here are four reasons why it's ideal to run both properties:
There's a learning curve. GA4 is a new platform with a new data model. Take time to learn the new layout, features, integrations, tracking, metrics, and reporting. Please don't wait until it's too late!
New reporting, tracking, and integrations. The GA4 property may not work correctly with your setup. Test these changes on your website or app before switching to GA4. Especially if you work with clients!
You can't transfer data from a Universal Analytics property to a Google Analytics 4 property. You must track data from scratch in a new GA4 property.
Google is still pushing out new features, updates, and improvements to GA4. The new platform is not complete yet.
Is Google Universal Analytics Going Away?
Universal Analytics will be around for a while longer. But Google will likely discontinue it eventually.
Existing Universal Analytics users can continue using UA properties. However, new properties or new accounts will default to Google Analytics 4.
What Are the Benefits of Google Analytics 4?
GA4 brings new and advanced features to better support businesses. Here are ten advantages the platform offers:
A complete understanding of the customer journey across multiple devices, platforms, and domains
Cross-platform tracking (web and apps) using the same GA property
Machine learning insights and predictions to help you make informed marketing decisions
Customer-centric measurements streamline data collection across devices and platforms
Customer life cycle reporting makes it easy to drill down into particular aspects of the customer journey
Real-time event tracking without needing to add code on your website or set up events in Google Tag Manager
Enhanced visualizations make real-time data analyzes more accessible and engaging
Future-proof tracking of users visiting your site or app in a world without cookies or identifying data
Privacy improvements to help stay compliant with GDRP and CCPA laws
Deeper integrations with Google products like Google Ads and BigQuery
Can I Use Google Tag Manager with GA4?
You can use Google Tag Manager with GA4. However, GA4 tracking differs from Universal Analytics tracking. You must create new event tracking in GTM to work with your GA4 property.
GTM supports GA4 properties with two tags:
Google Analytics: GA4 Configuration
Google Analytics: GA4 Event
Learn how to configure Google Analytics 4 tags.
Google Analytics 4 vs Universal Analytics: What's Different?
GA4 comes with a fresh layout and new features. Here are ten notable changes between Universal Analytics and Google Analytics 4:
New interface and navigation
New event-driven data model
Codeless event tracking
Smarter AI-powered insights and predictions
Customer-centric measurement
Customer lifecycle reports
Cookie-less analytics tracking
More granular data control
Deeper integration with Google Ads
Free integration with BigQuery
Let's go more in-depth into what's new and different below:
1. New Interface and Navigation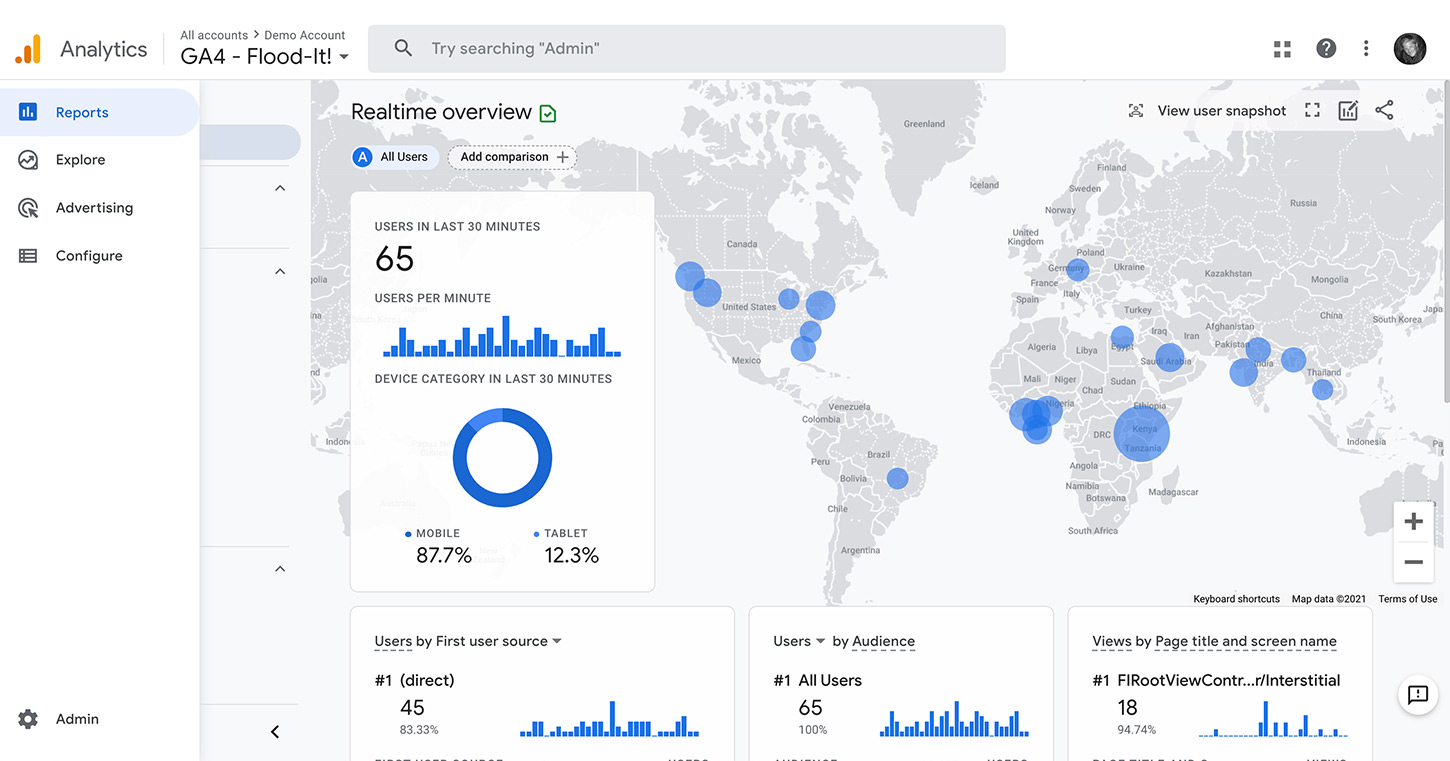 GA4's interface is much different from Universal Analytics. Noticeable changes include:
A new navigation structure. The left navigation pane now has links to Reports, Explore, Advertising, Configure, and Admin.
New reporting centered on the customer's journey. The default reporting topics include Life Cycle and User collections.
Improved visualizations and data tables. It's now easier to get a holistic view of real-time data at a glance.
Improved interaction with data. It's now easier to interact dynamically with data. For example, comparing data between desktop and mobile devices is more intuitive.
Google overhauled the user interface and navigation. The new platform is more user-friendly and easier to navigate.
2. New Event-Driven Data Model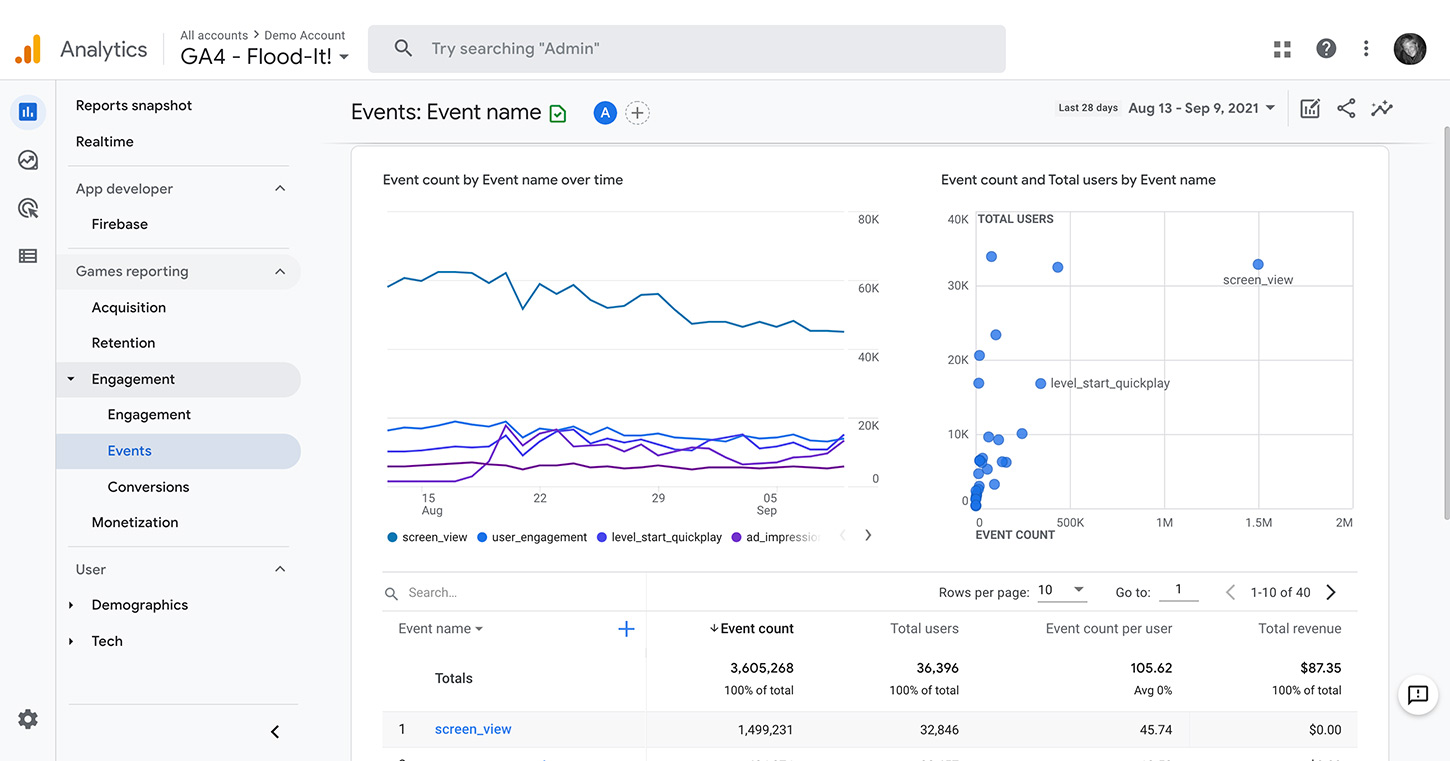 Google Analytics shifted from a session-based data model to an event-based model. This new event-driven model offers more flexibility. For example:
Universal Analytics sends data to your reports as a Hit." These predefined hit types include pageview, social interaction, and more. This means you can only collect data matching one of the predefined hit types. Also, Universal Analytics requires Google Tag Manager to collect additional event data.
In contrast, GA4 sends data to your reports as "Events." Users trigger events while interacting with your website or app. For example, events track user interactions, user details, and other information about your site or app. You can also create custom events. You're not restricted to predefined options.
Events fall into four categories:
Enhanced Measurement events
Automatically collected events
Recommended events
Custom events
Plus, you don't have to add code to your website or configure Google Tag Manager to collect event data!
3. Codeless Event Tracking

Track events in real-time without adding code on your website or setting up events in Google Tag Manager.
You can now set up cross-platform tracking in GA4. Enable "Enhanced Measurement" in the data stream settings. GA4 will automatically deploy code to your website or app. This feature requires less effort to implement and supports a cross-platform view in one place.
4. AI-Powered Insights and Predictions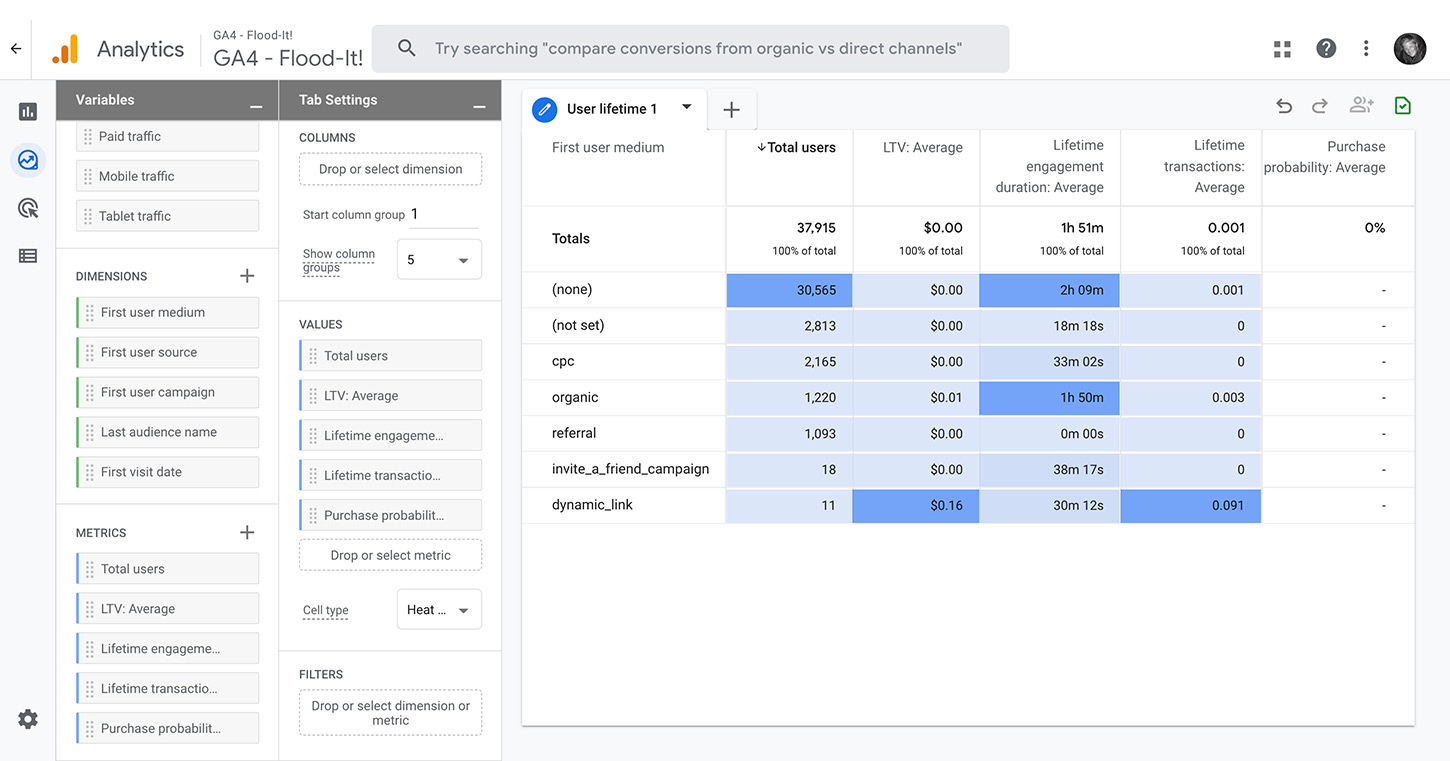 GA4's advanced machine learning models will alert you about trends in your data. For example, growing demand for a product you sell online.
You can also use this technology to predict likely outcomes. For example, the potential revenue you may earn from a specific customer group.
The predictive metrics include:
Purchase probability: The probability of a user who was active in the last 28 days making a purchase in the next seven days.
Churn probability: The probability of a user who was active in the last seven days not being active in the next seven days.
Revenue prediction: The predicted revenue from purchases in the next 28 days from users active in the previous 28 days.
These insights help you better understand customer behavior. For example, you can anticipate the future actions of customers. The data will also help you make informed decisions about your audience.
5. Customer-Centric Measurements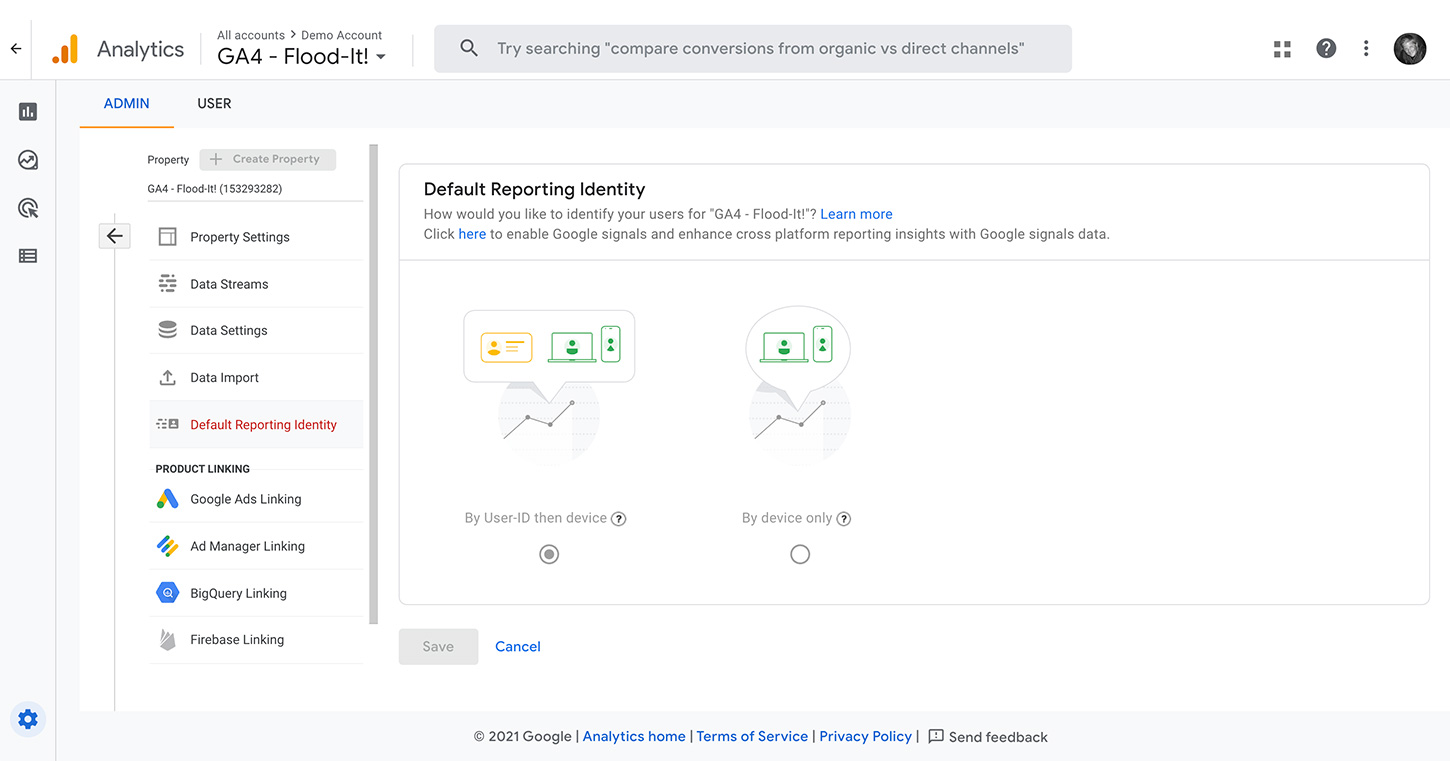 Customers often interact with businesses using various devices and platforms. For example, a user might browse your products on a tablet. Then make a purchase later on their desktop computer.
As users navigate across multiple devices, data becomes fragmented and difficult to track. For example, Universal Analytics measures device and platform visits separately. The collected data gives an incomplete view of the user's journey.
GA4 solves this problem with customer-centric data measurements like User-IDs, Google Signals, and Device-IDs. These "identity spaces" give you a complete view of customer interactions across devices and platforms.
Plus, GA4 brings these cross-platform analyses together under a single property!
6. Customer Lifecycle Reports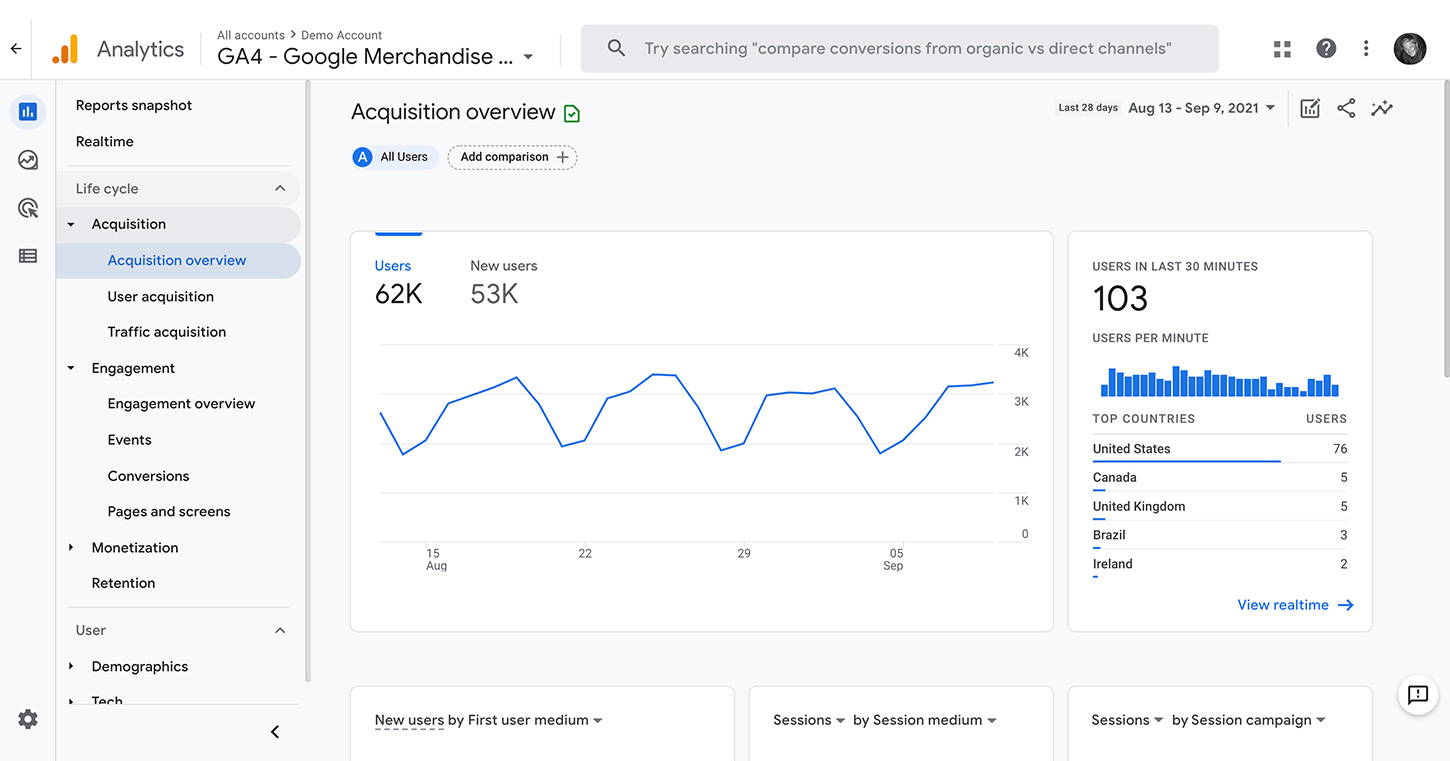 The Customer Lifecycle Reports help you understand the customer life cycle. You get a complete view from acquisition to conversion and retention. For example, when a customer discovers your brand through a paid ad online. Then later installs your mobile app and makes a purchase.
You can also drill down into specific customer journey insights. For example, use the reports to discover:
Which campaigns performed the best.
What actions customers took in their journey.
When a user last purchased from your website or app.
When a user last engaged with your website or app.
Users with high purchases and low churn rates.
Which traffic source and medium attracted high-value customers.
What a user does after converting.
The new customer life cycle reporting has two default topics: Life Cycle and User collections.
The Life Cycle reports provide these topics:
Acquisition: Displays the number of new sessions and users on your website or app. It also shows the sources, mediums, and campaigns bringing users to your website or app.
Engagement: Measures user interactions on your website or app. See what pages users visited, how long they stayed, how they interacted with the content, and more.
Monetization: Measures revenue from eCommerce purchases, ads, and subscriptions. It also shows how users engage with items, add them to the cart, checkout, and more.
Retention: Displays how well your website or app retains users. You can also measure lifetime value (LTV) to determine the value of users.
The User reports provide these topics:
Demographics: Displays where your website or app traffic originates. For example, the user's country and city.
Tech: Displays website or app traffic by the user's technology. For example, the platform, operating system, screen resolution, and app version.
These default reports provide a detailed view of the customer's journey. However, you can also create custom reports to show the data most vital to your business. Each property can have up to 200 custom reports.
7. Cookie-less Analytics Tracking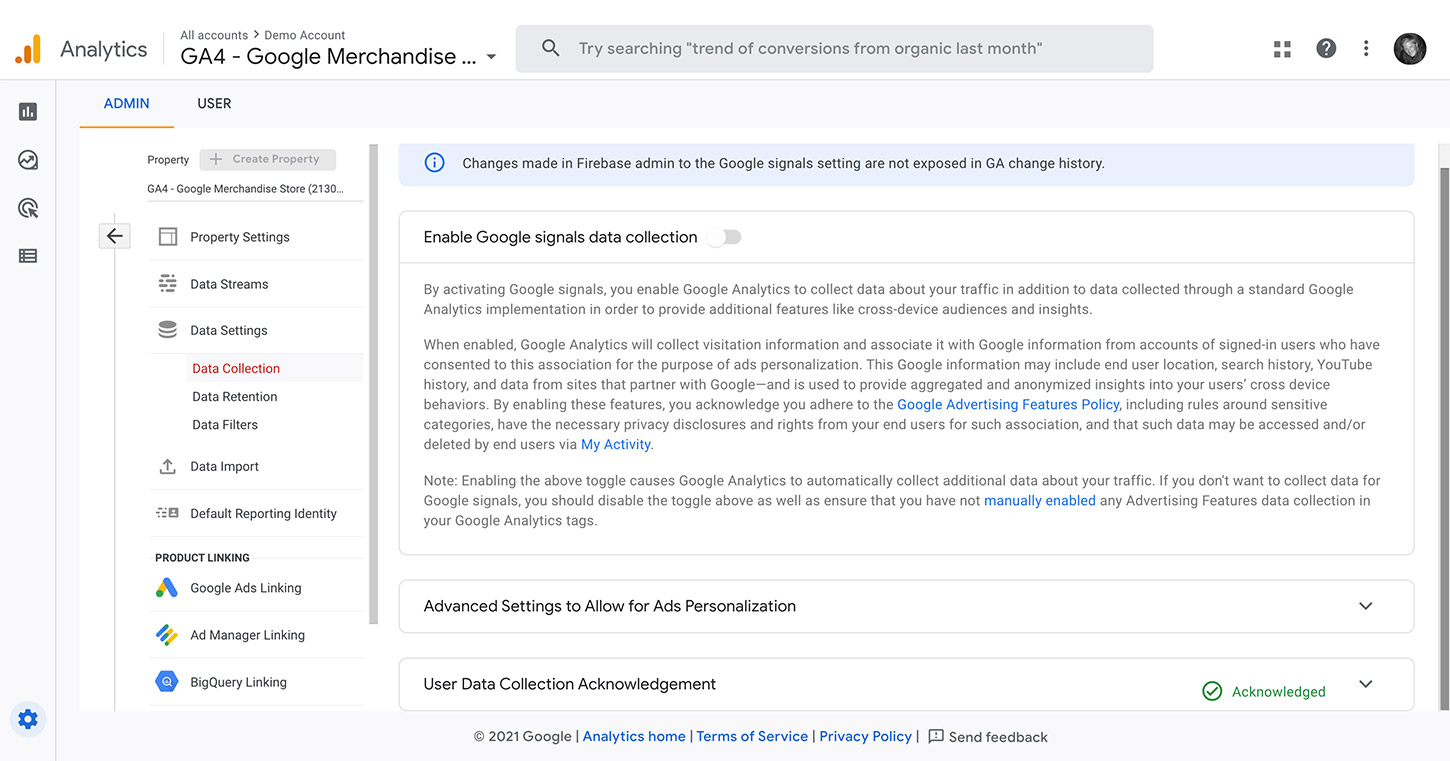 Regulations like Europe's General Data Protection Regulation (GDPR), California Consumer Privacy Act (CCPA), and updates to Apple's iOS protect users' privacy.
Also, many browsers and extensions block cookies and tracking identifiers. This change makes it hard to track and collect user data.
GA4's privacy-centric design works with or without cookies. This capability works well even when users switch between devices and platforms! With machine learning and modeling, GA4 can fill in gaps where the tracking data is incomplete.
This approach adapts to a world less dependent on cookies or identifiers. It also makes GA4 compliant with new privacy regulations.
In contrast, Universal Analytics depends on third-party cookies to collect data. However, new privacy laws and technology make it difficult to track users while staying compliant with privacy-driven changes.
8. More Granular Data Control
GA4 includes options to help users comply with data regulations like GDPR and CCPA. You can manage how the platform collects, retains, and uses the data.
New capabilities include:
Consent mode: Designed for websites required to obtain end-user consent to collect analytics data. It also allows you to create consent opt-ins for your Google Analytics and Google Ads.
Ad personalization: Choose when to use data to optimize ads, limit data use, and more.
Data deletion: Comply with data deletion requests from users with more control. This feature also comes with a new preview mode to verify the data before removing it.
9. Deeper Google Ads Integration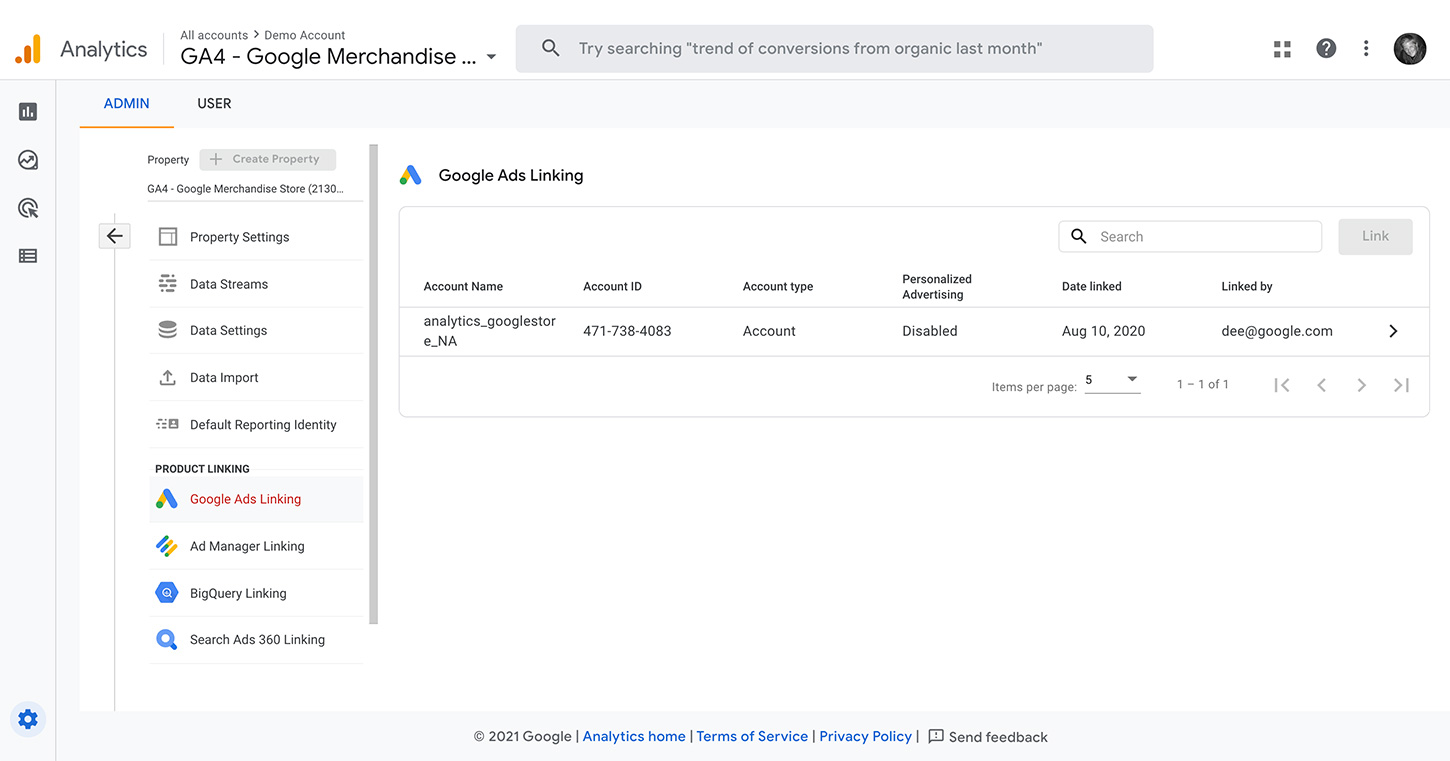 GA4 integrates with Google Ads. You can quickly identify high-value audiences and target them with paid or organic campaigns.
When you link your GA4 property to your Google Ads account, you can:
Get detailed insight into conversion behaviors.
Create and manage high-value audience profiles.
See the entire customer journey from their first ad click to the targeted conversion.
See your Google Ads campaigns in the Acquisition reports.
Access new Google Ads dimensions in the User Acquisition report.
See your Google Ads campaigns in the Advertising workspace.
Import Analytics conversions into your Google Ads account.
Improve your Google Ads remarketing with Analytics audience data.
Measure how Ad campaigns drive app installs and in-app event conversions.
Tracking interactions across the web and apps also allows you to see conversions from various sources. For example, YouTube video views, Google and non-Google paid channels, Google Search, social media, and email.
10. Free Integration with BigQuery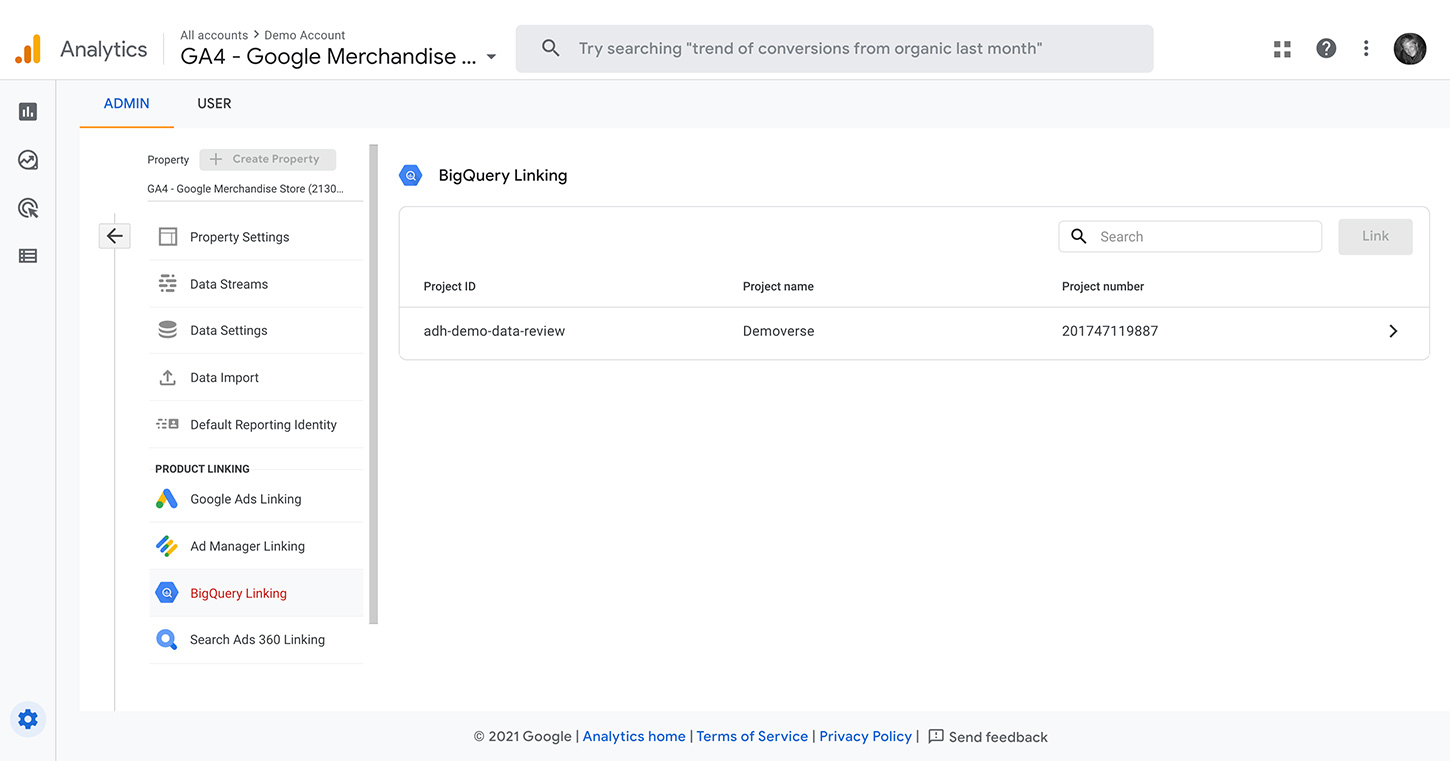 BigQuery is a serverless cloud storage platform designed for large data sets. This premium tool helps you manage and analyze your data faster. It also brings a lot of additional insights and advanced features.
Plus, connecting GA4 with BigQuery is free! You can export your raw, unsampled data collected on your website and app. This means your data analysis will be more precise and powerful.
However, you must pay if you exceed the free usage limit. Learn more about BigQuery on Google's product page.
How to Set Up Google Analytics 4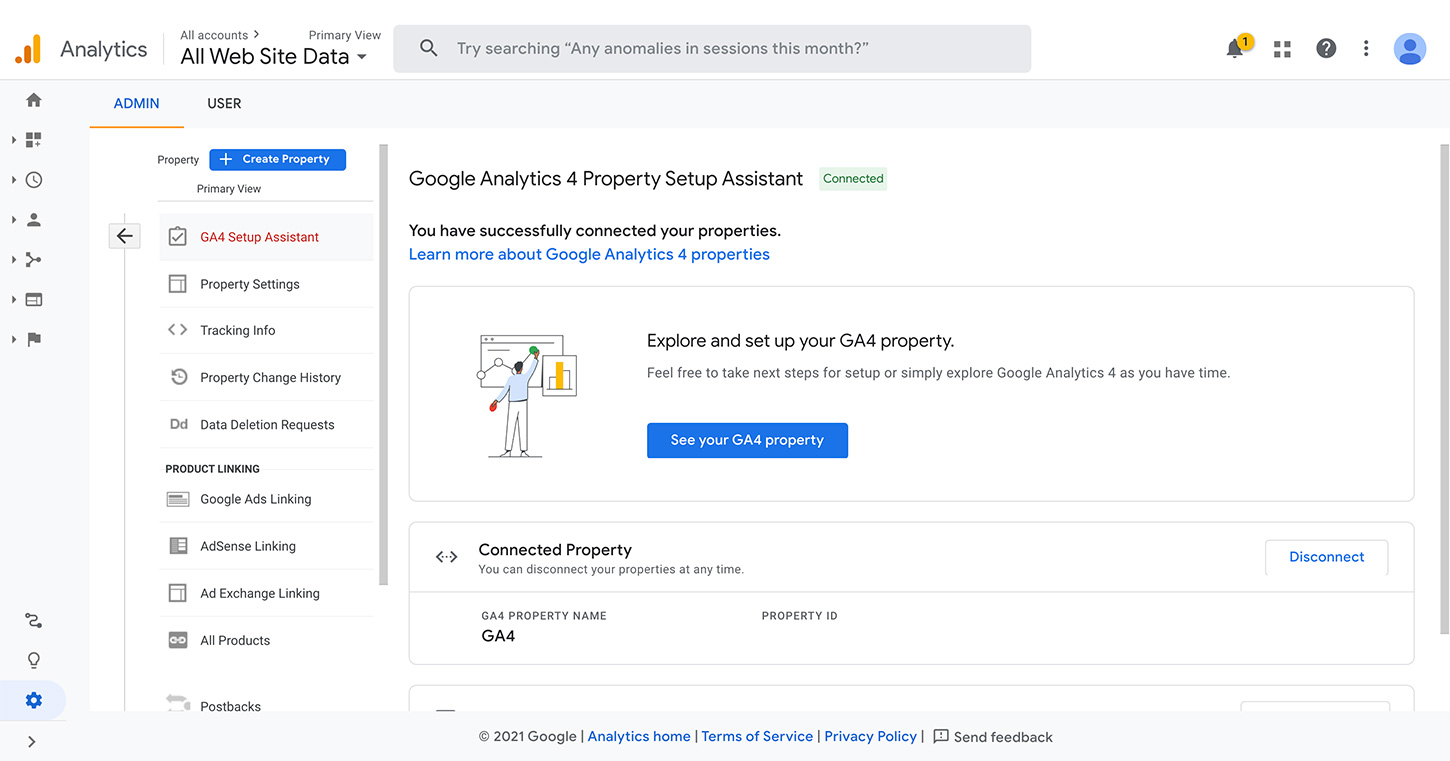 These steps show you how to set up a Google Analytics 4 property alongside your existing Universal Analytics property.
In Google Analytics, click Admin.
Select your Google Analytics account in the Account column.
In the Property column, select the UA property collecting data for your website from the drop-down menu.
In the Property column, click GA4 Setup Assistant.
Click Get Started under "I want to create a new Google Analytics 4 property."
If you use Google Tag Manager, you can Enable data collection using your existing tags. However, if you use a website builder or CMS like WordPress, Wix, etc., you must add a new tag.
Click Create Property.
Once you click Create Property, the setup wizard:
Creates your new Google Analytics 4 property.
Copies the property name, website URL, time zone, and currency settings from your Universal Analytics property.
Establishes a connection between your Universal Analytics and Google Analytics 4 properties.
Activates Enhanced Measurement in your Google Analytics 4 property.
Lastly, click See Your GA4 Property to view your new property. You can then create tags and customize your GA4 property.
The Take-Away
Businesses must think differently about their users and the future of analytics as technology evolves.
Users access a brand's website and app on multiple devices and platforms at different stages in their journey. Also, increasing privacy regulations are changing how businesses track, collect, and use analytics data.
Fortunately, Google Analytics 4 meets these major shifts in consumer behavior and privacy requirements. It provides a future-proof design, flexible features, improved insights, and efficient ways to act on those insights.
Better analytics insights = better marketing decisions!